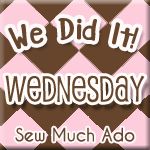 I have a tradition of making my kids new pajamas for xmas eve. I have been able to get these made, so I am way ahead of schedule! I used a few clearenced women's long sleeve shirts. As you can see there wasn't enough of the blue to finish the pants for D but oh, well, they are just pj's.
Here is a kind of mini tutorial on how I made the kids' pj's. Nothing new really, and considering this is my first attempt at a tutorial please excuse the mess. The pictures are not very good, the only time I have to do anything is late at night in very poor lighting.
One of the women's shirts
I laid a pair of B's pj pants on the sleeve to see how much of the sleeve to use. I planned to re-use the existing sleeve cuff for the pant cuffs plus the longer they are the longer B can wear them.
To re-used the original neckline I just laid B's shirt over the new one & marked out the front piece.
I did the same for the back.
Here are all my pattern pieces cut out. The sleeves will become the pj pants.
To make the sleeves into pant pieces I measured the crotch depth of her current pants and cut the seam to open it up. I added this small triangle piece to the back crotch seam of the pants to give B a little more room to move.
Waist band and elastic for pants. Fold waist band fabric in half width wise and sew up short ends to make a loop.
Fold waistband loop in half, enclosing the elastic loop and sew/serge onto pants. Since I used the sleeves, the pants already have a cuff at the ankle and so are done.
Sew/serge shoulder seams of shirt.
Sew/serger sleeves onto shirt.
Sew/serge side seams. To finish the bottom edge I did a rolled hem with my serger.
I traced some of D's pj's on to freezer paper to make patterns.
The freezer paper is great for knit fabrics because you can iron it onto the fabric then cut without having to use pins/weights.

Since D's neckline is raw, I used some rib knit from an old shirt to bind the neckline.
So, here is a sort-of tutorial. Please let me know if I can answer any questions. I hope to at least inspire some re-fashioning out there.
Have a good night and Blessed Be.