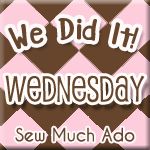 I made new shades for my sister's new living room windows. She called me a couple months ago while she was at the fabric store & asked "how much fabric do I need for curtains?" My response of course is to question what kind, how full, etc. Thinking she was going to have Mom help her make curtains since she lives 350 miles away from me. Sister: Oh, no I am having you make me those kinds of shades you had at your old house.... Me: Oh, okay, well how big are your windows, etc, etc. So, to shorten a boring story she bought the fabric and mailed it to me. So I was busy getting four shades sewn up and using the extra fabric to make throw pillows, hoping to have everything done to take with me to Thanksgiving at my parents' house. With a few more hours work at my sister's house I got three of the four hung - I always wait to hem until I can check the length with the hardware.
Bad pic but a view of the three living room curtains in "top-down"
When my husband and I lived in Colorado I made top-down bottom-up shades following the tutorial
here
from Terrell Designs. I really like the style since you are able to have some privacy but still let the sunlight in. I wish I had pictures of all the shades I made. Another plus I found was that you can make the shades interchangable for the seasons. I had a winter tapestry set, a summer set, and a fall set for my living and dining rooms.
So, my sister loves her new shades and now I don't have to worry about a gift for my sister and her husband.