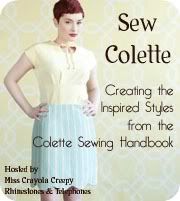 I am lucky to have a wonderful library system in Minnesota. I decided I should check out some books from the library so I could decide which to buy with my Xmas money. So, one of the books I currently have is
The Colette Sewing Handbook
which is lovely!
On Monday
Sarai
had a post about this
sew-along,
which was perfect timing for me! I need the motivation of keeping up with the group but this also gives me the
excuse
motivation to do something new and for myself. The ladies from
Rhinestones and Telephones
and
Miss Crayola Creepy
are doing weekly posts (Thursdays) starting with the Meringue skirt. I'm a bit behind already :( but I do at least have the pattern traced and will hopefully get my muslin made this weekend since my dear husband doesn't have to work Saturday (& hopefully Sunday). I am really looking forward to making all the patterns in
The Colette Sewing Handbook
, they are (IMOP) classic styles with vintage roots that I really like. I have always admired the
Colette Patterns
but with my pattern stash I have a hard time buying new patterns that
cost more than $1
I can't be sure I will get around to sewing. I'll post progress updates on the blog to keep myself going & just in case anyone is interested in seeing what I create. Now to pick an old sheet to use for my muslin :) and do some pattern measuring and adjusting (need to check the skirt length specifically).
Have a good evening and Blessed Be.