****Updated 5/8/12: New Look Patterns featured my blouse on their
Facebook
page!! Yay!****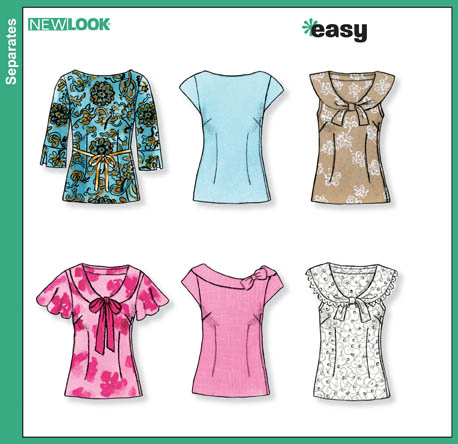 I had just enough of this fabric for my new blouse! I don't have any idea where or when I acquired this pretty print but it was in my stash and I think worked perfectly for this blouse. I used version B of
New Look 6808.
I loved the cap sleeves, especially going into summer! I took my chances and did not make a muslin tho I did do my usual SBA but didn't do any length adjustments - the waist didn't measure but slightly lower than my 14.5" BWL so this blouse was an easy one!
The blouse has side bust darts and waist darts on front and back - which I forgot to sew the front waist darts until I had it finished and washed, then realized why I wasn't thrilled with the fit! So luckily I could still see the dart markings on one side, got them transferred to the other & sewn up - oops! It fit much better with all the darts - who'da thunk?
Side/back view with view of side zipper.
I always prefer invisible zippers (much easier to sew IMOP) but didn't have one appropriate for this shirt so I decided to try the exposed zipper thing - I like it here. I didn't leave much of it exposed, pretty much just the zipper teeth; the green matches pretty close to the green in the fabric print. I actually really like that this zipper zips from bottom to top - if I'm playing with the kids I can unzip it a bit to give myself a little more room to move :)
A very good stash buster project in my opinion! Which is good since I broke my pledge and ordered fabric from
Fabric.com
. I ordered a fabric slightly similar to what I wanted for
this dress
.
I found a white with black polka-dot rayon for $2.39/yd so I ordered 10yds with the intention of dye-ing it a few different colors - like red for the dress. I think I'll like the red with black dots as well as red with white dots.
I also ordered some seersucker gingham in white/green check because B requested a shirt/dress in that print when she saw a doll in a book wearing a shirt in green/white check. I have to say I'm afraid B may be getting a bit spoiled - she is requesting more things made & expects me to make her whatever she wants! Just Saturday I went down to my sewing room, with B trailing behind, and she said "make me shirt, with this" pulling out a pink textured fabric from the shelf. I course I couldn't really say no, especially since I still had the pattern laying on my table. So B got another v-neck shirt like
this one
- it's already in the wash so I'll post a pic later.
Well, I feel like I had a pretty productive weekend & hope to have a productive week. Good luck in your endeavors this week.
Blessed be, Alyssa
Linked: