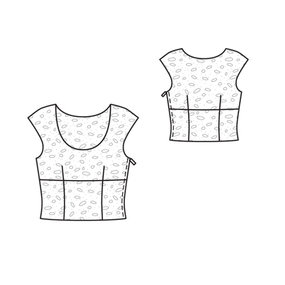 Burda Style Mag 2/2011 View A pictured
Another pattern & fabric stash buster! I finally made a pattern from one of my BurdaStyle magazines (only the 2nd time!). I made a point of going through the 12 issues I own (3/2010-5/2011) to catalog in my
Sewing Kit app
on my iPod, which patterns I thought I might actually make. So I came across
this top
& hoped it would be just what I wanted to use for this vintage piece of fabric from my grandma's stash - so silky soft!!
The top isn't perfect but I do really like it - so far - haven't wore it much yet. I really debated how I wanted to finish the bottom hem and if I'd had any on hand I would have used stretch lace but I don't so I couldn't. I ended up deciding I needed the top to be four inches longer than it is (so beware everyone! I am short & this top was too short for me). I could have gotten away wearing it with high waisted bottoms but I don't have many of those. To add the four inches and to be able to have a nice finish I made an eight inch wide strip of the fashion fabric folded it in half
& serged all the edges together.
The more I look at the pictures the more I wish I had made myself a muslin so that I could have added those extra four inches to the pattern to begin with so that that pretty print wasn't so broken up but there's no point in crying over spilt milk now.
I had to take up the front bodice piece at the shoulders by one inch - it was very low - luckily I did a test fit before sewing the lining to it.
I did completely line the top though the pattern only has you line the top bodice pieces, I believe.
I suppose I could wear it like this too if I am layering it under something else & need the white contrast but can hide my serged seam where the print & white meet.
I hope that my stash busting can inspire others to dig through what they have to make something beautiful!
Blessed Be,
Alyssa
Skip to My Lou