Good Morning!
I finally finished my new dress, just in time for B's 3rd Birthday party.
I was trying to get it finished in time for the
PatternReview.com
pattern stash contest but couldn't get it done quite in time. I made the
Dress with Flutter Sleeves (#110)
from the 5/2010 issue. I've been wanting to make this dress since getting the issue - I wanted to try those pintucks/pleats. I used the same fabric for this dress as I did for my
Truffle
since I needed a fluttery fabric again. I am really wishing that I could dye this fabric since I like the print and have so much of it still, but it is polyester & doesn't want to take the RIT dye - I may break down & order the specialty fabric dye.
Of course the instructions in the magazine are nearly non-existent but if you've sewn a dress before then you can do this. I was able to somewhat follow the instructions for the pleats/pintucks but they are fairly self explanatory, so not too difficult. I fully lined the bodice again so that I could get the nice finished edges all round - I used the same method of lining and turning the bodice that I learned in sewing my Truffle dress. The pattern has princess seams on the front bodice with the pintucks and shaping with darts in the back. I did my usual SBA and the dress fits nicely. The only problem I had was that the front neckline was much too low for my comfort- of course I didn't figure this out until I was just making sure of the front button placement so it was a complete pain to try to fix! With those flutter sleeves sewn into the straps it seemed like it would be near impossible to fix without doing some major hacking. I ended up sewing line of basting threads along the straps under the flutter sleeve then gathering up the straps a total of 3". The sleeves hide the stitches and get a little poofier but it worked, at least now my bra isn't showing. I tacked down the sleeves at the bottom corner of the sleeve where it comfortably met the back of the armhole rather than sewing it along the guide line given on the pattern.
The skirt is a simple half circle skirt with the instructions for drafting given in the magazine. With this fabric it is nicely flowing. Now if I can successfully get some of this fabric dyed I will have to make myself a longer circle skirt in this, love the lightness and flowing quality of the fabric. I didn't hem any edges - I made it easy on myself by using my serger to do a rolled hem - LOVE IT!! - so much easier than messing with turning and pressing and stitching.
So, there is another pattern accomplished and stash fabric used successfully.
I think my next couple projects will be gift items so I can get a jump on my Xmas sewing, hoping to make a very large majority of gifts with a few handmade things "purchased" from
WhoopdWhoop.com
. If you have a whoopdwhoop shop let me know I'd love to see what you are offering!
Well with only 141 sleeps until Xmas and my family getting together over Thanksgiving I better get started - my husband is complaining that he doesn't want me socked away in my sewing room the whole month of December so I told him I was getting started early - made him happy :).
Have you started any Xmas gift crafting? Any good projects I should add to my to make & give list?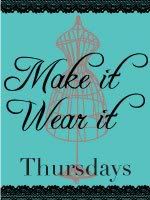 Skip To My Lou