I got a start on refashioning some of the
shirts my MIL gave
me.
I traced an existing shirt of mine to get a pattern for re-sizing the XL shirt to my size - this worked very well!
I cut the sleeves off a couple of turtle necks to make pants for B.
I should see about getting some heat transfer vinyl ordered - all these plain colored shirts get boring after a while, plus I haven't had the chance to try it out :)
Another pink shirt has been re-sewn into a long sleeve shirt for B that is almost a turtle neck. All of these shirts are super soft - always a nice bonus!!
I cut the sleeves of a couple of the turtle neck shirts to make a couple pairs of pants (here is one pair)
The rest of the pink turtle neck then became another Go-To Signature dress with purple remnants as contrast for the pockets, neck binding, and long sleeves. The flutter sleeve is the original sleeve cap that was cut off when I made the pants! This dress is B's favorite at the moment - it's pink & purple!!
I fixed one of my re-sized shirts (the neck line was a bit too low) by cuting up an old camisole top and sewing it to the existing neckline of the red shirt. This top ended up being tunic length and is a favorite now.
The collar is made from thrifted/refashioned pleather of a purse my MIL gave be quite a while ago. The purse flap had the pretty scalloped trim on it that I wanted to use so I took a seam ripper to it and then hand stitched it to the edge of my collar. The collar doesn't lay flat because of the trim but that is okay with me. I used
this pattern
for the collar though I used snaps to secure the back with an overlay leftover of the trim.
So here are a few of my quick projects done but a few more are left to post plus a problem vintage dress pattern that I need to fix or risk wasting 3 yards of fabric :P
Sorry I haven't been blogging much lately but do have a few more projects to get posted. I just got matched for Craftaholic's Anonymous's Holiday gift exchange and am looking forward to that - always fun!!
Hope everyone has a lovely weekend & thank you for taking a look at my little blog.
Blessed Be, Alyssa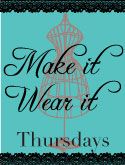 30 Handmade Days